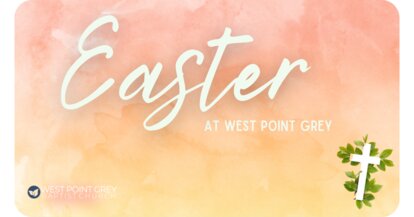 Good Friday April 7
We will not be having a Good Friday Service at our site, but we encourage everyone to observe Good Friday with other local communities:
Holy Saturday April 8 - Stations of the Cross, 10am-12pm.
Holy Saturday is the Saturday between Good Friday and Easter Sunday. This year on Holy Saturday we have the opportunity to participate in Stations of the Cross. Stations of the Cross is a series of self-paced stations representing the events of Jesus' last day. Each station has art and a written reflection to guide you to recall a particular event. The stations will be outside on the church grounds between 10am and 12pm, and you can come anytime between those times.
Come alone or with your family, a friend, or small group. Pastor Tom and some volunteers will be available to show you where to start the stations. We held Stations of the Cross two years ago and it was unique and impactful way to reflect on the events of Jesus' last day. You don't want to miss it!
Easter Sunday Worship Service April 9
Sunday Worship Service at the regular time (10:30am)