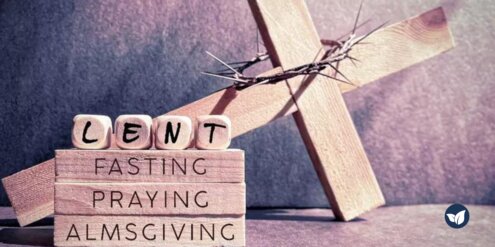 The doorway into the Lenten season of the Church is confession, which at first seems a rather dreary entrance! But paradoxically it's life-giving— it's 'blessed.' "Blessed is the one whose transgressions are forgiven, whose sins are covered." (Ps 32.1) But how do we continue to live in that blessed 'relief of honesty' in which we daily confess our lives as they are truly being lived by us, day after day? There is an ancient practice to help us.
The 'Daily Examen' is a simple habit described by Ignatius Loyola (15th c.) in his little book, Spiritual Exercises. Its aim is to keep us both honest with ourselves and attentive to the presence of Christ in the 'sacred ordinary' of our lives. It's a prayerful reflection on the events of the day in order to detect God's presence and discern his direction for us. Below is a version of the five-step Daily Examen that St. Ignatius practiced. So, before your head hits the pillow tonight try these 5-steps before you sleep. (Perhaps consider partnering with someone and let them know how this habit has affected not only your sleep, but the rest of those 16-hours you live within!)
DAILY EXAMEN -FIVE SMALL STEPS
Become aware of God's presence. Take a moment to breathe slowly and be still. Become aware of the Spirit in your own spirit and breathing.
Review the day's events/encounters with gratitude. Begin at the beginning and simply reflect on what you did, what you said and was said to you, who you encountered, what and who you saw. Offer it all up to Christ, not with critique or complaint, but with thanks.
Pay attention to your emotions. As you reviewed your day with gratitude, what do you remember emotionally? What were your emotional responses to the people, events, thoughts and experiences of the day? Regardless of what those emotions were—offer those up to God—all of them, unedited.
Choose one feature of the day and pray from it. That feature may be a person, a conversation, an event, a thought. Where was Christ in it? What, perhaps, is being shown to you about Him, yourself, others or life?
Look toward tomorrow. Simply pray, "God, the guard of my life, the sun has set, the night has gathered in, my soul sinks slowly into your rest, and I trust in the resurrection to come. Amen.