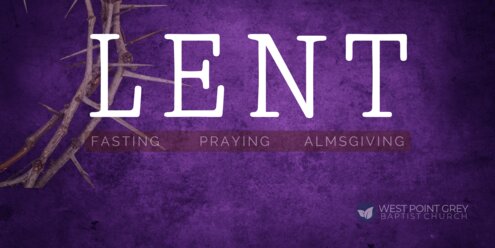 Lent Sermon Series
Dear Friends,
During the season of Lent, we will be reflecting on the following Psalms:
Feb 22 (Ash Wednesday) - Psalm 51:1-17
Feb 26 - Psalm 32
March 5 - Psalm 121
March 12 - Psalm 95
March 19 - Psalm 23
March 26 - Psalm 130
April 2 - Psalm 118:1-2, 19-29
April 9 (Easter Sunday) - Isaiah 65:17-15
Lent begins with Ash Wednesday on February 22nd and ends April 6th - 40 days.
Dr. James Houston makes this comment on the season: "Lent marks in us a deepening realism about the cost of discipleship. It involves facing our temptations, knowing ourselves, having new attitudes, changing dispositions, living prayerfully--all to become more Christlike." -James Houston
Helping us on this journey we will be reflecting on these Psalms. These Psalms acknowledge that all is not well. We have not always lived the way that God intended for us and that's got us in trouble. But they also tell us of God's loving and patient guidance in helping us turn around - repent - and head towards the life He's always intended for us. Along the way there is forgiveness, help, worship, guidance, hope and victory culminating in Jesus' entry into Jerusalem. Hosanna, Hosanna! They cried, meaning, "Save Us!", "Save Us!" Save us indeed!
As many of you know, the spiritual disciplines of Lent are prayer, fasting and almsgiving. To help us in these disciplines, every week of Lent, beginning with Ash Wednesday, we will be producing study material for small groups or individual devotion to strengthen your personal prayer and devotional life.
During the season of Lent, we want to encourage you to exercise the spiritual discipline of fasting and do without something to spend that extra time in prayer and reflection. You can be as creative as you wish from going without a meal or a special beverage or cutting out a particular media past-time and intentionally spending those moments cultivating your relationship with God. It will help you in the areas of self-control and patience. The spiritual discipline of almsgiving is the practice of generosity. Our Lenten discipline of almsgiving is to support CBM's "Threads of Hope" project. The office will be sending out details of this project and how you can be involved. May the Lord strengthen us during this important season of our Christian life.
Grace and Peace in the Lord Jesus,
Tom Mei